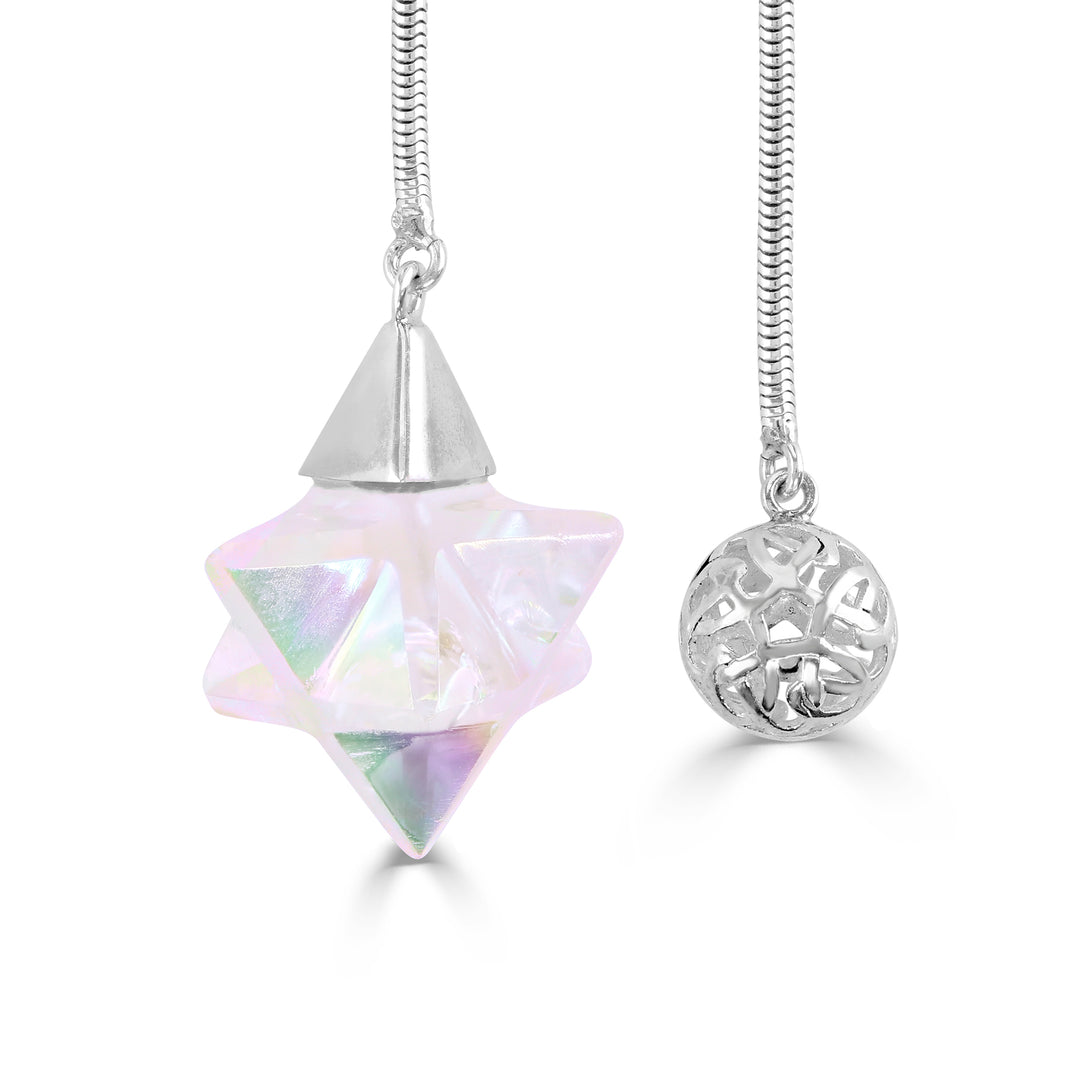 Aura Quartz Merkabah Pendulum
Regular price
$240.00
Sale price
$201.00
Save $39.00
/
Tax included.
Shipping
calculated at checkout.
---
Arrives before Christmas - Extended 60 day returns
Highest quality, ethically sourced gemstones
Jewellery made with the highest intentions
Free UK shipping & free worldwide shipping on orders over £200
In stock, ready to ship

Inventory on the way
Introducing the mesmerizing Angel Aura Quartz Merkabah Pendulum, a celestial tool for divination and spiritual exploration. This extraordinary pendulum features an Angel Aura Quartz crystal carved into the sacred Merkabah shape, suspended from a 925 sterling silver chain. Adorning the end of the chain is a captivating 3D Flower of Life ball, adding an extra dimension of beauty and meaning to this enchanting piece.
The Angel Aura Quartz crystal is renowned for its ability to enhance spiritual growth, promote peace and tranquility, and amplify intuition. Its ethereal iridescence and radiant energy make it an ideal companion for divination practices, energy healing, and meditation.
The Merkabah shape, also known as the 3D star, holds profound spiritual significance across many ancient traditions. It represents the interconnectedness of the physical and spiritual realms, as well as the balance and harmony of opposing forces. Working with the Merkabah pendulum can facilitate spiritual ascension, enhance energy flow, and deepen your connection with higher consciousness.
The 925 sterling silver chain provides both elegance and durability, ensuring that your pendulum remains radiant and resilient over time. The 3D Flower of Life ball on the end of the chain adds a touch of intricate beauty and represents the interconnectedness of all life. It is a symbol of creation, harmony, and the divine blueprint underlying the universe.
With its exquisite craftsmanship and profound energetic properties, the Angel Aura Quartz Merkabah Pendulum is not only a tool for divination but also a symbol of spiritual awakening and transformation. It is designed to assist you in accessing higher realms of wisdom, finding clarity in your life's path, and connecting with the sacred energies that surround you.
Whether you are an experienced practitioner or a curious explorer of the metaphysical realm, this pendulum is a perfect companion for deepening your spiritual practice and unlocking hidden insights. Embrace the celestial beauty and empowering energy of the Angel Aura Quartz Merkabah Pendulum and let its radiance guide you on a journey of self-discovery and illumination. It also makes a thoughtful gift for those seeking to expand their spiritual horizons and delve into the mysteries of the universe.
Details:
36mm Pendulum size (without chain)
925 Sterling Silver
Exclusive StoneAge design
Comes in its own StoneAge gift box 
We dispatch worldwide from the United Kingdom with Royal Mail tracked delivery.